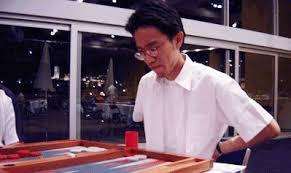 Connoisseurs say the best backgammon player of all time is Masayuki Mochizuki, nicknamed Mochy in the middle. This Japanese player became known to the general public in Monte Carlo, in 2009, when at the age of 29, he became world champion, beating in the final his formidable opponent and multiple world vice-champion, The Danish player Lars Trabolt, on the score of 25 points to 20, at the end of an exciting match, full of twists and turns, and very complex. This feat marked the beginning of a very prolific career since it has since lifted an impressive number of trophies.
Mochy, Super Grand Master
Mochy is constantly working on his game, and he progresses continuously, his talent but also his discipline allowed him to win other prestigious competitions. In particular, he is currently a double UBC world champion. The UBC (Ultimate Backgammon Championship) is a very young competition, but extremely ambitious, or two players compete in 12 successive games, like the world chess, or boxing championship. In 2019, he defeated the Swedish and excellent virtuoso poker player, Sander Lyloff. Rebelotte in 2020 then he has just defended his title last December against his compatriot and friend, Hideaki Ueda, after a series of breathtaking matches, where the suspense held spectators in suspense until the end of the 12th match.
At 41, Mochy may still have not reached his best level, and he will in any case be very determined to defend his title again in 2021, by facing the winner of the Title Candidates Tournament, perhaps the more popular in the world of backgammon.
Mochy has been reigning over the world of backgammon and his feats of arms for him for almost 12 years. To date is the only player in the history of this sporting sport to have been able to win the impressive title of Super Grand Master, with a performance rating (error rate) less than 2.5%, while its competitors, the best Grand Masters, work very hard for their performance rating to go below 3%.
Although he had considered a retraining in real estate, he is today professional player backgammon Full -time, sharing his schedule between practice, positions of positions, and transmission of his knowledge. He very regularly organizes competitions between Japanese hopes, including minors, and if the country of the rising sun has an impressive number of young players who can claim the elite, in the present as in the future, is most likely to put to the credit of Mochy.
A delicate position
In photo, here is a position taken from the 2009 world championship final, probably, the most critical position of the match.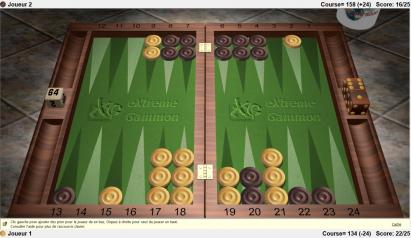 Mochy plays the whites and Lars Trabolt plays the blacks, the first player who arrived at 25 points wins the match. Mochy leads 22 to 16, the video is in the center, and the line is in blacks. In this position, Mochy has an important lead in the race since he leads 134 pips to 158. Should Lars Trabolt double? If he doubles, should Mochy take or pass?
Lars Trabolt decides to send the video, that is to say that he offers the following dilemma to Mochy. Either Mochy passes the video and he concedes a point to Lars, and the two players start a game again on the score of 22 to 17 for Mochy, or he takes it, that is to say that he continues the game but the value of it will be doubled. The position is still very unpleasant for Mochy, he has a man stuck in the back, behind a bonus of 5, Lars threatens to send a second man behind this frightening bonus and has a very interesting anchor in point 20. de More, the scoring plays an important role here, since Lars is carried out, and Mochy is only three points from the match, which encourages Lars to double earlier. His double, according to computer analyzes turned out to be a very good double, because he might regret not having doubled now if he drives a 5, striking the hudten (the man alone) on the point 15. In order to take this Mochy video must have enough counter-game, and must not lose too many gammons (it will lose a gammon, that is to say double the value of the part if Lars manages to come out All his men from the board without himself being able to leave a single one), since with a video of 2 at Mochy, a gammon will catch up with a large part of the delay in Lars's score, and this score would be from 22 to 20 Only two points of difference. To everyone's surprise, and particularly that of the late Matvey "Falafel" Natanzon, the official commentator of the event, Mochy takes the video after a very brief moment of reflection, which according to computers, is very clearly the best Decision, although many excellent players would have passed in its place.
Best Casinos - September 2022
200% up to
2000$
+100 free spins
100% up to
200$
+ 500 free spins bonus exclusif!
120% up to
1200$
or VIP version
400% up to
2400$
+120 free spins
400% up to
2000$
+130 free spins
until
1000$
+300 free spins
until
1000$
And 125 free spins!
200% up to
1000$
+50 free spins
100% up to
500$
+ 20 free spins
120% up to
120$
OU 200 free spins
More casinos