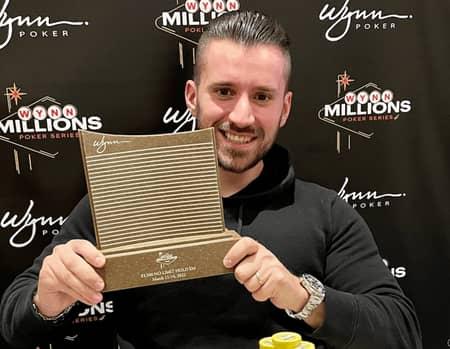 American from Lebanese origin, Joseph Georges Sabe, can we call a ''self-made man''. While residing in Lille at the time, this young poker passionate first made his weapons in theEPT (European Poker Tour). In January 2014, at the Deauville Casinos Barrière tournament and for his first live challenge, he rose in 15th place among 1095 participants. It's a $ 550 Pot Limit Omaha and its earnings are $ 1,299. Not bad for a first time! Later, in 2016, it was a slightly more "consisting" tournament in which he participates, namely that of Prague located in the Hilton hotel in the Czech capital. This time, we are on No Limit Hold'em $ 5300 and Joseph finishes 68th out of 1192 players. His more substantial gain is $ 18204.
Small tables with the most famous circuits: the atypical journey of Joseph Sabe
With these small sums acquired at the start of his career, the player begins to frequent regularly Poker tournaments. And it ends up paying! At Merit Mediterranean Poker Cup in Cyprus of 2018, he simply finished first in a tournament made up of 380 players with A beautiful robbery amounting to $ 80397. This time, his career is indeed launched and Joseph does not intend to stop there! The Franco-Lebanese continues to survey the global tables in order to forge a name and a reputation ... He continues to play and participates consecutively in four tournaments in 2018. Two to the Casino de Monte Carlo and two in the circuit prestigious of WSOP (World Series of Poker). But his earnings are rather modest although still honorable (less $ 40,000 on all of these tournaments). Despite this, he still ends up in the top 20 rankings.
In 2019, again in a Cypriot tournament of Merit Casinos (the Merit Poker Western Tournament for this time), he illustrated himself by ranking 8ᵉ place, winning the tidy sum of $ 40,31. Inflated in block, the latter decides to expatriate to the United States and logically chain tournaments. Unfortunately and as we all know, in poker, we cannot sauté every day ! And that, Joseph will learn it at his expense since he collects less than $ 15,000 in five WSOP tournaments. We will notably remember a disappointing 1601ᵉ place with only $ 621 in gains in the No Limit Hold'em collossus tournament. Admittedly, the entrance was $ 400, but the young Gambeler had accustomed us to better performance. His last tournament of that year will still allow him to reverse the trend by pocketing the sum of $ 20,200, still in a World Series tournament.
Perhaps exceeded by his recent results beyond all his expectations, Joseph Sabe makes a break and only returned to the stage in 2021, within the Hard Rock Hollywood Tournament. But then again, Bad Beat for American who ranks 106ᵉ on more than 5,000 participants, with $ 8,670 collected.
For his credit, let us remember that the player currently classified 14ᵉ from his country of origin, Lebanon, has only participated in tournaments called ITM (in the money). These competitions guarantee participants and despite their final classification, a share of the Prize Pool (total amount of the gains offered to the winners). The patience as well as the determination of Joseph Sabe very recently ended up paying with this huge blow to the Wynn of Las Vegas.
Best Casinos - September 2022
200% up to
2000$
+100 free spins
100% up to
200$
+ 500 free spins bonus exclusif!
120% up to
1200$
or VIP version
400% up to
2400$
+120 free spins
400% up to
2000$
+130 free spins
until
1000$
+300 free spins
until
1000$
And 125 free spins!
200% up to
1000$
+50 free spins
100% up to
500$
+ 20 free spins
120% up to
120$
OU 200 free spins
More casinos
The long -awaited consecration
Monday March 14, 2022, the day of glory finally arrived! With a total gain of $ 50,7978, his career record, Joseph Georges Sabe finishes first in one of the biggest ancillary competitions in Wynn Millions Poker Series, commonly called the Wynn. He managed to multiply his starting bet 145 times ($ 3,500 of Buy-in) and finally enters the closed circle of the rising stars of poker to monitor in the coming years. American managed to stand out in an event or names such as Jack Hardcastle (England), James Romero (United States) or I wook oh (United States) and ended up in the final against the Brazilian JOAO SIMAO. Thanks to this victory, the Franco-Lebanese is now part of the top 100 of American players with the most students' gains. A buzz that will undoubtedly delight the ex-Lillois and who will undoubtedly push him to continue his progression in the WSOP. Hopefully he can soon play without the Great Court, like a Tony mirry (United States), recent winner of the Wynn 2022 Event with more than a million and a half dollars won.